In electronics manufacturing, accurate processes are a prerequisite for flawless products. Leader Vision, a machine vision distributor and system designer for customized projects based in Taiwan, has developed a wafer OCR reading system using JAI cameras to ensure the smooth production of wafers in one of Taiwan's world-class semiconductor foundry companies

The Application
During the production of wafers in the electronics industry, codes on wafer disks must be reliably identified and read to pinpoint and trace each single wafer during the whole production process. This task represents a great challenge and has an important influence on the profitability of the entire manufacturing process.

If codes are not found or are read incorrectly, the entire production chain can be forced to a standstill, which can have expensive consequences. For that reason, stability and accuracy are both critical requirements in wafer inspection.
The Challenge
The codes are lasered on the reflective wafer surfaces and are therefore difficult to identify and read for conventional machine vision systems. A previous system was delivering inadequate results, mainly because it had been designed as a standard product with fixed specifications which were not flexible enough for customers wanting to customize certain functions.

Another challenge was that the system had to be light and have a simple structure to enable easy integration into the existing wafer manufacturing facility. On top of that, the vision system had to be flexible enough to not only solve secure OCR inspection tasks, but also to accomplish other applications such as optical character verification (OCV); reading data and barcodes; and aligning objects for future systems when required by customers.
The Solution
Leader Vision opted to develop a special embedded vision system for this application that allows them to transfer the entire system – including source code – to customers so that they can benefit from a higher degree of flexibility in use.

The new embedded vision system guarantees reliable and accurate code recognition at an average speed of around 20 to 30 codes per second. It also incorporates JAI's latest GOX-2402-PGE camera as an essential component for Leader Vision´s integrated embedded system for wafer OCR inspection.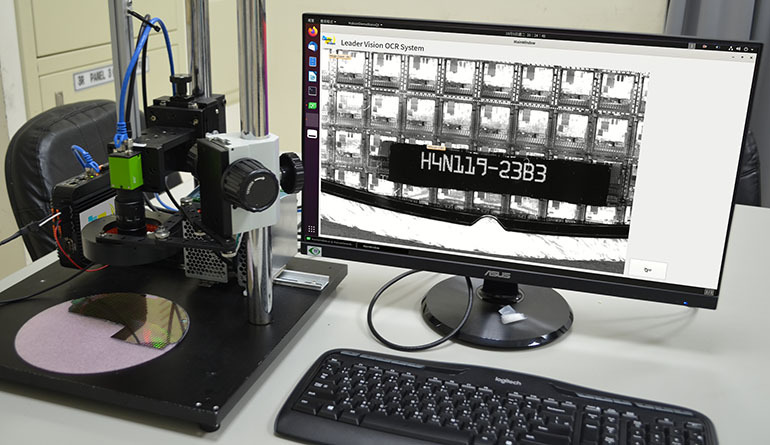 The Benefits
The customized embedded vision solution that Leader Vision developed is impressive in several ways, starting with its simple integration into existing systems for wafer production. The hardware configuration of the system is very easy compared to conventional PC-based solutions as the embedded system integrates all required interfaces and functionalities in a much smaller footprint.

This is an important factor as there is only limited space in the clean room environments used in semiconductor manufacturing processes.

In addition, embedded vision systems are available at a competitive price compared to PC-based machine vision systems which ensures increased profitability. Through the deployment of deep learning technology, the Leader Vision solution offers users flexible options for operating the system, even in applications that require additional inspection tasks.
The Camera

For the Leader Vision design team, the compactness and price-performance ratio of the GOX-2402-PGE made this JAI industrial area scan camera the perfect solution for this task.
The resolution and speed of the GOX-2402 were ideal for this use case, which is in line with the high-efficiency training of deep learning and the need for high-quality images to provide the best results.

In addition to the compact design and the attractive price, Leader Vision decided to integrate this JAI camera into their embedded wafer inspection vision system because of its attractive blend of features including extremely high image quality and industrial grade reliability. It weighs only 62 grams and delivers 2.3-megapixel Bayer color output at up to 50 fps over a GigE Vision interface.

According to Leader Vision, the camera´s high stability and outstanding price/performance ratio has added real value to the application. Combined with Leader Vision's high-level integration technology, the final system provides a highly stable and efficient environment for the task of reliably reading codes on wafers.